In addition to the launch of Vulcan Remedy Cloud and remediation analytics at The Remediation Summit, the Vulcan Cyber product and engineering teams have been very busy adding dozens of new features and integrations to the world's most-powerful vulnerability remediation orchestration platform.
Remedy Cloud
If you missed the news, Remedy Cloud is the free, community version of Vulcan remediation intelligence. It is available now at https://vulcan.io/remedy-cloud or just click on the nav link above this post. We know vulnerability management and remediation doesn't stop at prioritization. In fact, this is where the real work begins and often where the entire process falls apart and we fall short of actual remediation outcomes. The Vulcan platform has always offered remediation intelligence and curated remedies for the toughest vulnerabilities to our customers. But now we are making this intelligence available as a free service to any infosec or IT professional who needs to get fix done quickly.
Chen and Ortal presented a breakout session at The Remediation Summit called, ""Easy Remedies for your Top Vulnerabilities" and the focus was remediation intelligence and Remedy Cloud. Watch it here:
Remediation Analytics
We also announced the newly customizable Vulcan remediation analytics service and Noam and Dan provided an overview and demo at The Remediation Summit as well. We built vulnerability remediation analytics for a couple of reasons. First, just like all the tools you use, the data and insights you have into remediation outcomes is siloed and myopic. Second, Vulcan is the only platform that attempts to collect all the data relevant to the remediation process, by integrating with dozens of the tools you already use, to provide a comprehensive view of end-to-end remediation campaigns and their KPIs in risk management, compliance attainment, service level delivery, mean-time to resolution and more.
And while we will help with templates, we also understand the need for any enterprise organization to customize dashboards to provide the insights your executive teams need. Remediation analytics is also available now. Watch this session from The Remediation Summit to learn more:
Here are more Vulcan release highlights through October 2020:
New Connectors
Synack is a crowdsourced penetration test platform, You can now upload reports exported from Synack into Vulcan to track remediation progress and risk.
With Checkmarx CxSAST you can view static code vulnerabilities and related code projects. The connector can be configured with Vulcan Gateway as it is usually installed on premise. Read more details here.
Connector Enhancements
The Qualys Web Application Scanner provides dynamic scanning reports on vulnerabilities in websites.
New Vulcan Platform Functionality
Vulcan customers can now create tags based on regular expressions. Leverage unlimited options to create tags for any given group of assets that exists in your organization. Here is a regex tag example based on names containing certain IPs: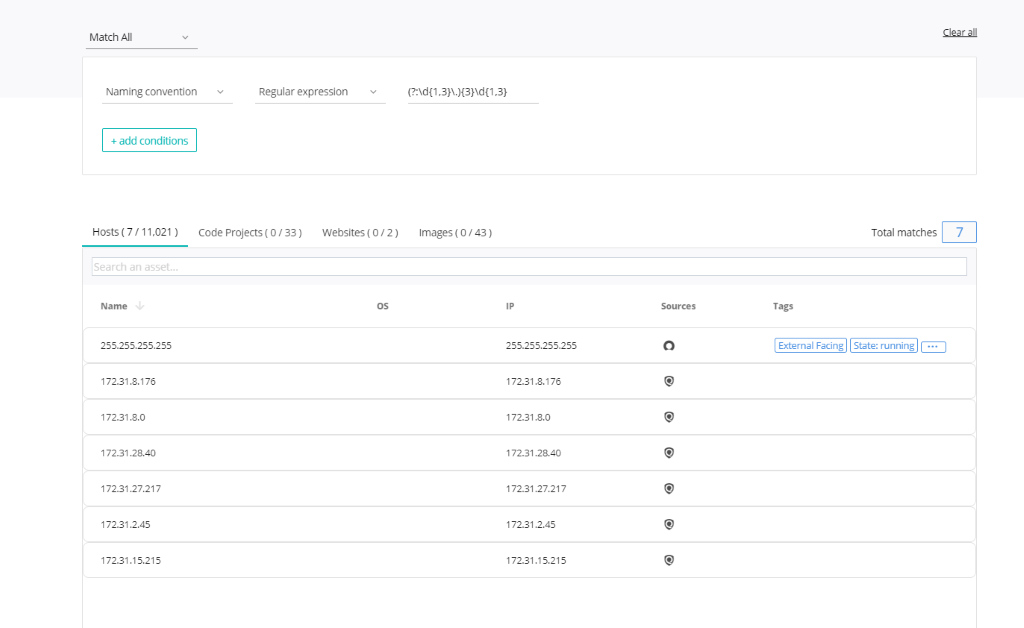 More Updates
Take action – deploy a fix: This functionality is now supported also from the "Assets" and "Remedies" pages in addition to the "Vulnerabilities" page in the Vulcan platform. Leverage this functionality to focus your remediation efforts on the most crucial assets.
Ignore specific vulnerability instances: Choose which vulnerability instances to ignore through the "Vulnerabilities" page by opening a vulnerability, clicking "Ignore" and choosing the relevant assets.
Un-ignore specific vulnerability instances.
First seen and last seen: Enhanced sorting capabilities for the vulnerabilities table.
Filter vulnerabilities by connector: Filter all vulnerabilities by the connector that discovered the vulnerability instance.
If you'd like to see any of this new functionality for yourself we offer several options: